Mount Damavand Climbing Guide: Trekking, Hiking (Update 2023) 
Climbing to the top of Damavand is the desire of many professional climbers and hikers around the world. Not only do its technical challenges excite the professionals, but its breathtaking nature and landscapes also appeal to semi-professionals, too. Over the last few years and the growing number of tourists traveling to Iran, Trekking Iran's nature has become a craze.
For people who want to climb Mount Damavand and need to learn about the basics of climbing the mountain, we have included the ultimate mount Damavand climbing guide information you need to know, such as where the mountain is, the food plan, the packing of a backpack and equipment, the acclimation required for the climb, the significance of locating drinking water, the essential equipment that should be carried, the obstacles you will encounter during your climb, and the environment and weather. 
It's important for you to know what level of physical fitness you will need; What time of the year you should climb; What days of the week you should climb; The climbing activity should commence at what time and at what pace; And much more.
If you're an adventure junkie with a taste for the extreme, climbing Mount Damavand is definitely on your bucket list. At 5,610 meters tall, it's the highest peak in Iran and the Middle East, making it a challenge that's not to be taken lightly. But with the proper preparation and equipment, summiting Mount Damavand is an achievable feat. In this ultimate guide, we'll give you all the tips and advice you need to make your climb a success.
About Mt. Damavand
Mount Damavand is the highest mountain in Iran and the Middle East. It's located about 60 kilometers northeast of Tehran (the capital city) and can be seen from almost anywhere in the city if the air is not polluted. The summit is a dormant volcano whose last eruption was around 5300 BC in the Holocene. Mt. Damavand is a significant symbol for Iranians, and it's the subject of many Persian poems.
What Is Mount Damavand Height?
Mount Damavand's elevation is 5,610 meters (18,406 ft) above sea level, making it a challenging but not extreme climb. Elevation gain is about 2609m (8559 ft). You can do it in 3 to 5 days if you're fit; otherwise, you can take as long as you need. 
Is It Hard to Climb Mount Damavand?
Climbing up to the summit of Damavand is not technical. There are literally hundreds of routes that can be taken, but most climbers use one of two main routes and you can trust what mount Damavand climbing guides say. The southern route is a beautiful hike that takes you through an amazing view of the summit. It's also shorter than the northern route. 
The northern route is slightly longer but much steeper and is a harder route, even for expert climbers. So we can say it is possible, and the level of difficulty goes back to your situation and the route you take for your trek.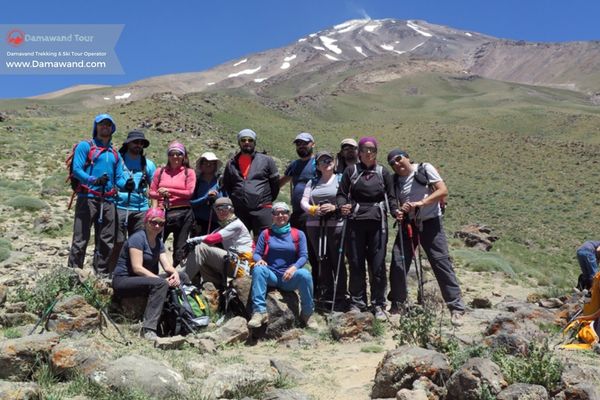 What Is the Best Time for Climbing Mt. Damavand?
The best season to climb Mt. Damavand is from mid-June to mid-September. The weather is stable during this time, and the snow has melted, making for an easier ascending. July and August are the busiest months on the mountain, so if you're looking for a quieter climb, opt for June or September. 
What Are the Main Climbing Routes for Mount Damavand? 
For Mount Damavand climbing in Iran there are about sixteen trekking routes. Four of these routes are popular for hiking, trekking and climbing. The most popular mountainous routes to climb Mt. Damavand are the northern, northeastern, western, and southern routes.
There are shelters on each of these faces around 4000 meters in altitude. The North Face has another shelter at about 5000m. Damavand Classic South Route is the name you will hear a lot of and is the most popular side of the mountain, with a popular new mountain resort at about 4250 m. Most climbers prefer to descend from the South face due to many reasons.
South Route
The south road of mount Damavand can be reached from Tehran or the North of Iran. Many people come from the North, and it makes this route a popular one for climbers. Also, as it takes a short time to get to Haraz's main road from Tehran, the south route is one of the best options with a short distance.
An inefficient approach to reaching the summit is climbing from the third campsite and trekking throughout the night to reach the summit before dawn. This is a more tiring strategy and increases the chance of succumbing to mountain sickness.
Note that most people who aim to reach the peak from the West, North East or North face, like the South face, due to its proper footpath, which is very important when you are summiting a tall mountain like Mt. Damavand.
North East Route
This route is challenging to take. You will find it mountaineering and very hard to climb. Ascending and descending are along with the problem of cold and wind. Around 4500m, there is a famous camp named Takht-e-Fereydoon. This can be a good shelter if you need a rest in your challenging trek.
West Route
There is a shelter in the West route called Simorgh. You can call it "Panagah Simorgh" in the Persian language. This route is also difficult for many climbers. Snow and cold don't let you have an easy descent on this route, and the type is basic mountaineering. So you may face challenges while walking up the mountain.
Simorgh Means Roc
In old poems of the Persian language, there are tales about Roc, which is a legendary bird with special features and is a symbol of unity and power. 
North Route
Not a lot of people try this route. The North route is the most difficult one. Not only the steepness but also the cold and wind make it a very hard option. Ice and snow are the biggest problems if you reach there in winter. You will experience a hard descent, so be prepared and well-equipped. By the way, two shelters are waiting for you, called 4000 and 5000.
Are There Any Physical Requirements For Climbing Damavand?
Your first condition when scaling Mount Damavand is you need to have a suitable amount of physical endurance to go on a hike or trekking expedition. 
Those who frequently partake in such activities will have an easier time climbing to the top of Damavand since it's a relatively easy climb. A good level of physical fitness will allow you to avoid doing the final climb to the summit a struggle.
Does Mt. Damavand Have any Base Camps or Shelters?
Mt. Damavand has multiple base camps that offer mountaineers basic lodging and resting areas. Below is a list of the base camps and shelters:
Goosfand Sara base camp on the southern track. 3000 m above sea level.

Bargah E Sevom Sanctuary on the southern track. 4200 m above sea level.

Simorgh Sanctuary on the western track, 4200 m above sea level.

Chahar Hezar base camp on the northern track. 4000 m above sea level.

Panj Hezar Shelter on the northern track. 4600 m above sea level.

Takht e Fereydon camp on the northeastern track. 4350 m above sea level.
When Is Damavand's Ski Season?
The ski season in Damavand lasts from early November through early May. In winter and spring, you can enjoy skiing on soft slopes. The amount of snow is different each time and each season. Because of its location that is close to the Caspian Sea, Damavand receives a great deal of snow during three seasons of the year (Fall, Winter and Spring). You can ski about 12 km down semi-hard slopes if you visit during the snow season. Maybe you want to experience an awesome Mt Damavand Ski tour.
Can I Climb Mt. Damavand Solely? 
Climbing Mount Damavand is an achievable feat for any experienced hiker. Although it is the tallest mountain in Iran and one of the tallest in the world, its moderate difficulty rating means that anyone in good physical condition can summit the peak. That being said, it is always best to hike with a partner, or at least in a group, as the mountain can be quite treacherous if weather conditions take a turn for the worse.
Mount Damavand Climbing Risks & Dangers
Mount Damavand Climbing can be a dangerous and risky endeavor, especially if you are not prepared. There are many risks associated with climbing Mount Damavand. 
First, the mountain is located in a remote area, and there is no easy way to get help if something goes wrong. That's why you should be well-prepared with everything you need.
Second, the weather on the mountain can be very unpredictable, and it is not uncommon for climbers to be stranded overnight due to bad weather.
Finally, because of its height, Damavand has a very thin atmosphere which can cause problems for climbers who are not used to altitude sickness. There are oxygen bags that come in handy in this situation.
Despite the risks, climbing Mount Damavand is an experience that many people cherish. Climbers should be aware of the risks and plan accordingly. In addition, climbing Mount Damavand could be done with a certified guide to help you experience a safe climb.
Food and Drinks
Food and water are very important on the mountain too. Climbers should bring enough food to last them for five days.
They should also bring a stove and plenty of fuel if they plan on cooking their own food. The mountain is very cold, so climbers should also bring warm clothing and a sleeping bag. It is notable that your equipment should be professional. If your sleeping bag does not meet the standards, it is better to replace it with a standard one.
Climbers will not find much water on the mountain, so they should bring enough to last them for their climb. They can also bring iodine tablets to purify any water they do find on the mountain.
Frostbite
Frostbite occurs when the skin is exposed to cold temperatures for a long period of time. The condition is most common on the face, hands, and feet. It results in a loss of feeling and color in the affected area, and if left untreated, it can lead to serious complications or even death. 
Altitude Sickness
The higher you go, the thinner the air. This makes it harder for your body to get enough oxygen. At very high elevations, like those of mountains, this can lead to altitude sickness. 
Danger of Falling
The most common injuries that occur in Damavand are due to falls. Climbers fall while attempting to ascend or descend the mountain. Sometimes they fall into crevasses, which are large cracks in the ice caused by melting and/or shifting of ice and snow. Climbers also frequently fall into these crevasses while trying to cross them.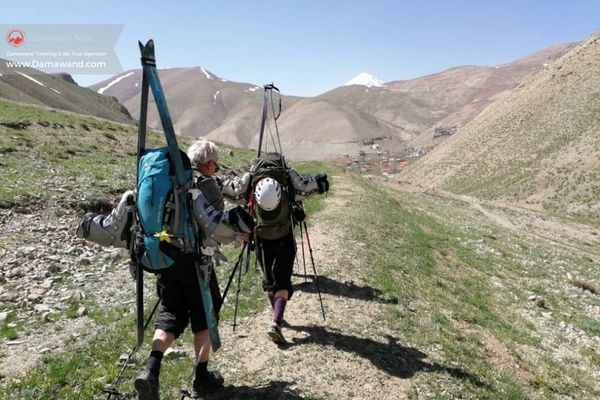 How Long Does It Take to Climb Mount Damavand?
The answer depends on a few factors, including your fitness level, experience, weather conditions, and which route you take. The average time it takes to summit Mount Damavand is 5-7 days. However, if you are an experienced climber with a good fitness level, you can do it in as little as 2-3 days.
Are There Any Physical Requirements For Climbing Damavand?
Your first condition when scaling Mount Damavand is you need to have a suitable amount of physical endurance to go on a hike or trekking expedition. 
What Are Essential Gears for Climbing Mount Damavand?
As a beginner, it is important to know what gear is essential for the mount Damavand trekking tour in Iran. This list will help you get started with the basics.
Climbing Shoes
Climbing shoes are one of the most important pieces of gear for climbers. They provide grip and support while you are climbing. There are many different types of climbing shoes, so it is important to choose the right ones for your feet and your style of climbing.
Harness 
A harness is another essential piece of gear for climbers. It keeps you safe while climbing by attaching you to the rope. There are many different types of harnesses, so it is important to ask other people about the best brands and styles in the market. Don't forget to buy the best ones for professional use only.
Belay 
A belay device is also a vital tool to carry when climbing. It is used to control the rope while you are belaying or holding the rope for another climber.
A takeaway Note
It is very important to use other people's experiences. We strongly recommend you get a professional mount Damavand climbing guide to enhance the level of your experience and enjoy your climbing. It is also safer as he or she can lead you through the best routes and help you survive in the best way possible. Never forget that there are many things you must learn about this mountain; ask experienced ones.