8 Top Reasons for Skiing in Iran
"When it comes to choosing a ski destination, you might not initially think of Iran. However, this unique and underrated country has a lot to offer in terms of skiing. Not only are the Iran Ski Resorts some of the best in the region, but a ski vacation in Iran is also very affordable. There are many reasons to consider skiing in Iran, and here are the top eight reasons to plan a ski trip to this beautiful country."
Reason 1: The Affordable Cost of a Ski Vacation in Iran
One of the top reasons to consider skiing in Iran is the affordable cost. Lift tickets, rentals, and accommodation are all much cheaper compared to popular ski destinations in Europe and North America. Plus, deals and discounts are often available for early bookings or package deals. Generally, you can expect to pay around $50 per day for a lift ticket, $20 per day for equipment rentals, and $30-50 per night for accommodation. 
Reason 2: The Long Iran Skiing Season
Iran has a long ski season, with the slopes open from December to April. This means you have plenty of time to plan a trip that fits your schedule. Whether you prefer to ski in the early season when the slopes are less crowded, or you want to experience the festive atmosphere of the holidays on the slopes, there is a time that is perfect for you. The ski resorts are also open during major holidays, such as New Year's, making it a festive and unique destination to celebrate.
One thing to consider when planning your trip is the weather and snow conditions. The ski season in Iran is generally divided into two parts: the early season, from December to February, and the late season, from March to April. The early season is typically colder and drier, with more powdery snow, while the late season is warmer and wetter, with heavier snow. Depending on your preference, you can choose the time that is best for you.
Reason 3: The Quality of the Iran Snow
"Iran is known for having high-quality snow, with a range of conditions depending on the elevation and microclimate of the region. For example, the resorts at higher elevations like Dizin and Shemshak tend to have dry and powdery snow, while resorts at lower elevations like Tochal have wetter and heavier snow. Whether you prefer dry and powdery or wet and heavy snow, you can find it on a Mount Damavand ski tour  in Iran.
Reason 4: The Variety of Skiing Opportunities in Iran
In addition to the traditional alpine skiing at the resorts, Iran also offers a range of off-piste and backcountry opportunities. Mount Damavand, the highest peak in the country, is a popular destination for ski touring, with guided tours through Iran's reputable ski tour operators. There are also cross-country skiing trails and heli-skiing options in certain areas
Reason 5: The Cultural and Historical Aspects of Skiing in Iran
Not only does skiing in Iran offer the chance to hit the slopes and enjoy the great outdoors, but it also allows you to experience the rich culture and history of the country. Many of the ski resorts are located in picturesque mountain villages with traditional architecture, and there are often cultural events and festivals taking place during the ski season. In addition, there are numerous historical sites and landmarks to visit during your trip, such as the iconic Mount Damavand, which you can explore with a trusted Mount Damavand climbing guide. Skiing in Iran truly offers a unique blend of adventure and cultural experiences.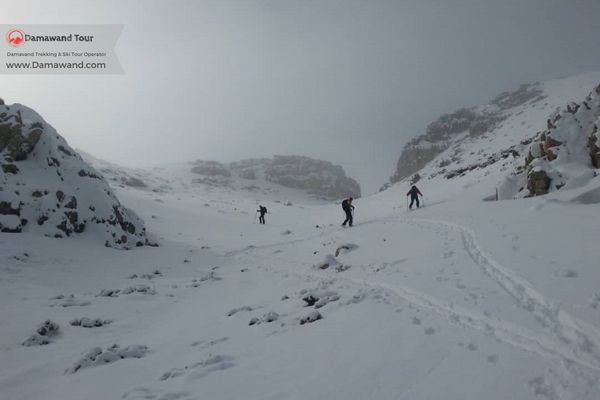 Reason 6: The Affordable Accommodation Options in Iran
When it comes to finding a place to stay during your ski trip to Iran, you'll be pleased to know that there are a variety of affordable accommodation options available. From luxury hotels to budget-friendly guesthouses, there is something to suit every budget. Many of the ski resorts in Iran also offer on-mountain accommodation for a true ski-in, ski-out experience.
When booking your accommodation, it's essential to consider the location of the ski resort. The resorts in Iran are located in various parts of the country, from the Alborz Mountains near Tehran to the Zagros Mountains in the west. Each resort has its own unique charm and atmosphere, so you can choose the one that best fits your preferences. For example, if you're looking for an adventure off the slopes, you might consider booking a resort near Mount Damavand and hiring a Mt Damavand Ski touring guide to explore the area.
In terms of cost, budget-friendly guesthouses generally start at around $30-50 per night, while luxury hotels start at around $50-100 per night. On-mountain accommodation prices can vary depending on multiple factors and may change over time, but it offers the convenience of being right on the slopes.
Reason 7: The Convenient Location and Accessibility of the Ski Resorts in Iran
Iran is a conveniently located country for ski vacations, with numerous direct flights to Tehran from major cities around the world. The ski resorts in Iran are also easily accessible from the capital, with most of them located within a few hours' drive. This makes it easy to get to the slopes and start enjoying skiing as soon as you arrive.
In terms of transportation to and from the ski resorts, many of the resorts offer shuttle services or have rental car options available. You can also hire a private driver or take a taxi to get to the resorts. The ski resorts in Iran are well-connected and easy to get to, making them a convenient and accessible destination for ski vacations.
Reason 8: The Scenic Beauty of Skiing in Iran
One of the standout features of skiing in Iran is the country's stunning natural beauty. The ski resorts are located in picturesque mountain regions with breathtaking views of the surrounding landscape. From the snow-capped peaks to the rolling hills and forests, there is a sense of serenity and peacefulness that can't be found at other ski destinations. Whether you're on the slopes or relaxing in a mountain village, you'll be surrounded by breathtaking scenery.
A Takeaway Note
If you're looking for a ski vacation that's truly unique and memorable, look no further than Iran. With a long ski season, a variety of slopes, and cultural and historical aspects that set it apart from other ski destinations, Iran has a lot to offer. From the affordable cost and accommodation options to the best skiing in the region, there are many reasons to consider a ski trip to Iran.
So why wait? Start planning your dream ski vacation to Iran today. With the help of a reputable Iran Adventure Tour Operator, you can easily plan and book your trip, choosing from a range of resorts and activities to suit your preferences. Don't miss out on the opportunity to experience the unique and memorable ski vacation that Iran has to offer.