Introducing Iran's Best Hotels: Where Luxury and Culture Converge
Iran's fascinating blend of history, culture, and natural beauty attracts a growing number of travelers each year. As the country opens its doors to international visitors, a range of exceptional hotels has emerged to cater to the discerning traveler. In this article, we delve into Iran's best hotels, where luxury accommodations meet the rich cultural tapestry of the nation. From opulent city retreats to traditional boutique stays, get ready to embark on a virtual journey through Iran's finest accommodations.
The Greatness of Tehran (Tehran Best Hotels)
Tehran, Iran's bustling capital, boasts several luxurious hotels that picture elegance and sophistication. The city offers a diverse range of accommodations from five-star international chains to boutique hotels. The Espinas Palace Hotel, is renowned for its opulent interiors and panoramic views, and the luxurious Espinas Persian Gulf Hotel is an excellent choice for those seeking unrivaled comfort in the heart of Tehran.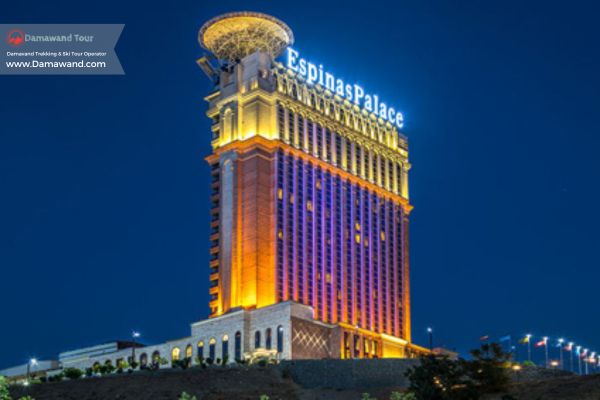 Oasis of Serenity in Isfahan (Isfahan Best Hotels)
Isfahan, known for its stunning Islamic architecture, presents a captivating selection of hotels that capture the essence of Persian culture. The Abbasi Hotel, a historic mansion turned luxury hotel, offers an enchanting experience with its beautifully adorned courtyards and traditional Persian design elements. The Pirouzi Hotel is another notable option, combining modern amenities with a traditional ambiance.
Shiraz: Gateway to Persian History (Shiraz Best Hotels)
Shiraz, renowned for its rich history and poetic heritage, is home to remarkable hotels that blend contemporary luxury with Persian charm. The Homa Hotel, located in the city's heart, provides guests with refined accommodations and breathtaking views of the surrounding gardens. For a unique experience, the traditional Elysee Hotel offers elegantly furnished rooms and an authentic taste of Persian hospitality.
Traditional Retreats in Kashan (Kashan Best Hotels)
Kashan, a city steeped in history and architectural marvels, boasts a selection of boutique hotels that transport guests back in time. The Saraye Ameriha Boutique Hotel, a meticulously restored 19th-century mansion, showcases traditional Persian design, intricate tilework, and tranquil courtyards. Another gem, the Manouchehri House, offers a fusion of old-world charm and modern comforts, making it a preferred choice for culture enthusiasts.
Coastal Splendor on Kish Island (Kish Best Hotels)
Kish Island, a popular destination for beach lovers, offers a range of luxurious resorts overlooking the azure waters of the Persian Gulf. Inspired by ancient Persian architecture, the Dariush Grand Hotel is a stunning beachfront property that exudes grandeur. The beautiful sandy beaches, alongside top-notch amenities and services, make it an idyllic getaway.
Conclusion
Iran's best hotels provide a gateway to an enchanting world where luxury seamlessly intertwines with the country's rich cultural heritage. From the grandeur of Tehran to the tranquility of Kashan and the coastal splendor of Kish Island, these accommodations offer unparalleled experiences for every discerning traveler. Immerse yourself in Persian elegance, savor traditional cuisine, and explore the country's captivating history while enjoying the finest in hospitality. Plan your journey wisely and discover the epitome of luxury and cultural immersion in Iran's remarkable hotels.