Mount Damavand Ski Touring Guide: Ski Mountaineering (Update 2023)
Mount Damavand is an extraordinary mountain for ski mountaineers and skiers, located in the Alborz range of Iran. With an elevation of 5,610 meters, it is the highest peak in all of Iran and the Middle East, making it one of the most sought-after ski-touring destinations worldwide. In this mount Damavand ski touring guide, we provide every detail a tourist need to know while planning for a fantastic ski mountaineering on mount Damavand.
The majestic Mount Damavand stands tall at an incredible height and is a popular skiing destination for many keen adventurers.
The 2023 ski season promises to be one of the best on record, with a huge variety of terrain available for those looking to explore this unique region of the world.
For skiers and snowboarders alike, there are plenty of exciting activities to enjoy during their time in Mount Damavand. From challenging off-piste skiing routes across pristine powder fields to exhilarating mountain tours through alpine meadows and glaciers – no matter your skill level, there's something here for everyone.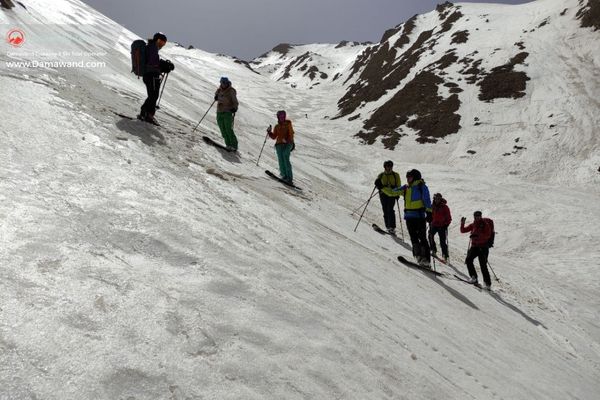 Ski Mountaineering on Damavand Mountain
Ski mountaineering is an incredible adventure sport combining skiing, trekking, and climbing elements. It provides an exhilarating challenge to those interested in exploring the world's most beautiful mountain ranges. Mount Damavand in Iran is one of the most popular ski touring destinations – offering a unique combination of scenic views, challenging ski descents, and breathtaking vistas.
This guide covers safety tips and vital gear requirements, route suggestions through different areas of the mountain, the best times for skiing tours in the area, as well as valuable advice from experienced local guides. You can also search for a Mount Damavand skiing advisor and ask your questions to have a safer experience. Whether you are a beginner or a seasoned pro, climbing up and skiing Mount Damavand is terrific.
Equipment Essentials
Equipment Essentials are indispensable for any ski mountaineering adventure. For a successful and enjoyable Mt Damavand Ski tour experience, you must be prepared with all the necessary gear. You need an accurate guide on what equipment is needed for a safe and memorable ski touring journey up Mount Damavand.
Having suitable protective clothing is crucial when you're skiing. It's essential to ensure that you have appropriate base layers, insulating mid-layers, waterproof shells and warm winter boots, as they can protect against weather extremes like wind chill or snow storms. You should also bring extra items such as hats and gloves to stay warm and avoid frostbite while skiing. Additionally, quality goggles or sunglasses are necessary for protecting your eyes from UV radiation during long days spent outdoors in the mountains.
What to Wear When Skiing Mount Damavand?
When you are skiing, you want to wear layers of clothing that can help keep you warm but still allow you to move freely. The layers you wear should be able to trap your body heat but not make you feel too hot.
Make sure you wear long underwear, a hat, and a ski jacket and pants. Your ski jacket should have a removable hood covering your head, neck and face. It should also be waterproof and have a liner that makes it windproof. You can wear ski pants, but they are not necessary. Ski gloves and boots are important, but you can also wear your regular winter boots.
What Are Essential Ski Tour Gears for Climbing Mt. Damavand?
A Mount Damavand climbing tour can be an incredible experience for anyone who loves adventure and wants to challenge themselves. However, ski touring up Mount Damavand requires adequate preparation and the right gear. The essential ski tour gears for climbing Mt. Damavand include skins, avalanche safety equipment, clothing layers, insulation, crampons and poles.
Skins are strips of synthetic fabric that stick to the bottom of skis which help reduce sliding speed when skiing uphill on a slope – an essential piece of equipment for skiing up Mount Damavand that will help you get safely to the top.
An avalanche transceiver is a must-have item for anyone planning to ski up Mount Damavand in Iran. Avalanche transceivers are used to locate buried victims and to avoid being caught in an avalanche yourself. Avalanches are common in the area, and the risk of avalanches is high, especially during the winter months.
A helmet is also a very important piece of equipment for anyone going skiing in Iran. It will help protect your head from bumps and bruising that could occur during falls or when you get hit by falling objects. It will also keep your head warm, a requirement in many ski resorts.
Reasons to Ski Tour on Mount Damavand
Mount Damavand is Iran's highest peak and presents an exciting challenge for experienced ski tourers. Ski touring on Mount Damavand offers a unique experience that leaves you with incredible memories. Here are some of the top reasons why you should consider adding this majestic mountain to your ski tour list:
Firstly, the view from the summit will leave you in awe. The mountain is surrounded by breathtaking landscapes – a truly remarkable experience. The cold temperatures and snow-capped peaks will make it feel like you've stepped into another world. Plus, depending on when you visit, there may be patches of snow even at lower altitudes giving you an extra dose of winter scenery!
Secondly, Mount Damavand offers various challenging ski routes that can test even the most experienced skiers and mountaineers. Skiing down from the summit is not for everyone, but it's a very rewarding experience. Plus, you can ski the surrounding slopes and valleys on the way up or down from the summit.
Climbing this mountain offers a truly unique experience for anyone willing to challenge themselves in a very different environment.
Finally, Mount Damavand is located in the heart of the Alborz mountain range – the highest mountain range in Iran, which also includes other famous peaks, Mount Alam-Kūh and Sabalan! So, for those who are interested in extended hiking trips, Mount Damavand provides a fantastic starting point or destination for longer treks.
Is It Hard to Ski Mount Damavand?
The answer is "Yes"; skiing Mount Damavand can be quite challenging. It's not just the height of this peak (5,610 m) that makes it tough; several other factors make skiing here difficult, including strong winds, steep slopes and variable snow conditions. With such unpredictable terrain, you must be prepared for anything before setting out on your ski tour.
In order to make sure your experience at Mount Damavand is a positive one, it's important to come prepared with the right gear and take into account any potential dangers or risks associated with the area.
What Is the Best Time for the Mount Damavand Ski Tour?
The Mount Damavand ski tour is the ultimate winter experience for skiing and snowboarding enthusiasts. Located in Iran, this grand mountain is an ideal destination for avid mountaineers and skiers alike. But when is the best time to go?
This guide will provide you with all the information you need to make your decision. From December to March, the slopes of Mount Damavand offer a variety of terrain, including steep chutes and backcountry powder fields that are perfect for intermediate to expert skiers or boarders. With its high altitudes, chilly temperatures and abundant snowfall during these months, it's easy to see why this peak has become such a hot spot among adventurous travelers from around the world.
The combination of fresh air and breathtaking views makes Mount Damavand ski touring an unforgettable experience — no matter what time of year you go!
Mount Damavand Ski Tour Season
The ski season begins early in Iran, with the first snowfalls often occurring during September and October. The season's peak is typically around February when the snow-capped peaks are at their most beautiful.
What Are the Main Ski Tour Routes for Mount Damavand?
Mount Damavand is a spectacular mountain located in the Alborz Mountains of Iran, and it is one of the most popular ski touring destinations in the world. Ski touring on Mount Damavand is an unforgettable experience that offers a variety of routes, from gentle slopes to steep runs with breathtaking views. Whether you're a beginner or an expert skier, there are several ski tour routes to choose from on Mount Damavand.
The main route starts at the Eastern Base Camp (3200m) and ends at Goosfand Sara Valley (3800m). This classic route includes some steep sections but also many beautiful areas suitable for all levels with amazing views over the lake basin.
Another popular option is to ski down from South Peak to Southern Base Camp, which offers some great powder skiing through forests and meadows. This tour is also a great option for ski mountaineers who want to climb the peak on their way down.
How Can I Choose Them?
Mount Damavand is one of the most iconic peaks in Iran, and its ski touring routes provide an unforgettable experience for anyone looking to explore its majestic landscapes. But how do you choose which route to take?
You need a mount Damavand ski tour guide who offers essential information on the best season to go, safety considerations, gear requirements, and advice from experienced mountain guides. You also should learn about the detailed accounts of all Mount Damavand's ski touring routes – from easy beginner runs to challenging multi-day treks – so that you can determine which one is right for your skill level and experience.
Whether it's your first time skiing or you are an experienced mountaineer looking for a thrill, there are many factors to consider when you want to choose the best route.
Can I Ski Tour Mount Damavand Solely?
For many skiers, Mount Damavand is a bucket list destination. Ski touring on this beautiful mountain offers some of the world's most incredible views and experiences. But can you ski tour this 5,610-meter peak solely?
The answer is yes! Ski touring Mount Damavand solo is possible with enough experience and preparation. However, it's important to note that this challenging feat should not be undertaken lightly due to potential dangers such as avalanches, rockfall, and crevasses. With proper planning and safety precautions in place, however, an experienced skier can safely tackle a ski tour journey up Mount Damavand.
Although, it is highly recommended to take this journey with a group of experienced people who can help each other in case of emergency.
Mount Damavand Skiing Risks & Dangers
Before you embark on your ski mountaineering adventure, it's important to understand the risks and dangers associated with skiing at such an altitude.
Make sure you have a comprehensive overview of all the potential risks when skiing Mount Damavand. From extreme weather conditions to avalanche warnings, you should look for everything you need before hitting the slopes. It's also essential that you do proper research into any guides or professionals you may use during your trip and have proper safety equipment so that you are prepared for whatever Mother Nature throws at you!
How Long Does It Take to Ski Mount Damavand?
Skiing up this tall peak requires an immense level of physical stamina and mental dedication. Many aspiring skiers wonder how long it takes to ski Mount Damavand.
This depends on factors such as terrain difficulty, weather conditions, fitness levels, skill level and the amount of gear necessary. Generally speaking, most experienced hikers can expect to summit within 8-10 days. This includes several days for acclimatization and rests at base camp before heading out for the main ascent. Moreover, you should also factor in additional time set aside for safety purposes or if any bad weather sets in during your tour.