Top 10 outdoor activities in Iran
Are you ready for an adventurous trip to Iran? Today, we are taking you on a journey to the fascinating country of Iran. Iran is a land of diversity, filled with ancient treasures, bustling cities, and stunning natural landscapes. However, what truly makes Iran unique is the deep reverence its people have for nature and outdoor activities. 
Whether it's hiking, skiing, or climbing, Iranians have always been drawn to the great outdoors. It is said that by immersing oneself in nature, you can connect with your true self and with the universe. 
In this blog, we will explore the top 10 adventure activities in Iran, that will not only challenge your physical limits but will also soothe your soul. So, buckle up, grab your gear, and let's embark on an unforgettable journey of exploration and discovery!
Trekking in the Zagros Mountains
Iran's imposing Zagros Mountains jut majestically across the vast swathes of the country's western plateau, straddling the Iranian Plateau and the Mesopotamian Plain like an awe-inspiring natural rampart. For adventure seekers and trekkers alike, these ancient peaks offer some of the most awe-inspiring backdrops on Earth for an outdoor excursion. With towering peaks, deep gorges, and scenic waterfalls, trekking through the Zagros is like wandering through an ancient and timeless landscape that has been shaped by eons of geological forces.
Hiking in the Alborz Mountains
Nestled in the verdant northern regions of Iran, the Alborz Mountains are a wonderland of pristine landscapes and diverse ecosystems. With their sharp-ridged peaks, dramatic valleys, lush alpine forests, and sparkling rivers, hiking through the Alborz Mountains is an unforgettable adventure that puts you in touch with the wild beauty of Iran's natural world. Ascending to the summit of Mount Damavand- the highest peak in Iran- is a monumental experience that will stay with you for a lifetime. Iran Adventure Tours are available to let you climb Iran mountains. A quick search will provide you with many mount Damavand climbing tours, guided by expert local guides.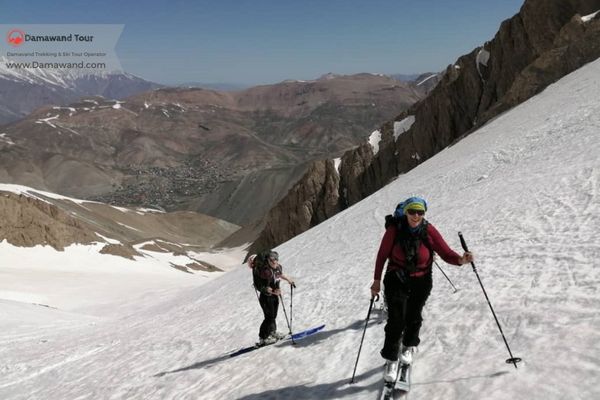 Skiing in Dizin
Tucked away high up in the craggy mountains of the Alborz, Dizin Ski resort is an underrated gem for skiers in Iran. Boasting some of the best snow in the country, this world-class resort is a ski enthusiast's dream come true. Picture yourself swooshing down the slopes, surrounded by imposing mountains and snow-covered pines, or taking a break to sip hot tea and appreciate the chance of experiencing adventure activities in Iran.
Adventure sports in Kerman
If you're looking for an electrifying adventure in Iran, Kerman Province is the place to be. Brave globetrotters can partake in a variety of heart-racing pastimes like dune bashing, camel riding, sandboarding, or hiking across the barren stretches of the awe-inspiring Lut Desert. Make sure not to skip out on the Shahdad Kaluts, or the City of Sand Castles, which is one of the most incredible natural marvels Iran has to offer. Kerman is more than sports though. One on of the best outdoor activities in iran is empracing the cultural charachter of Kerman. Spending time with locals and walking in the old Bazars takes your experience into the next level. 
Bazaar Shopping in Iran
Visiting Iran's bazaars is a must-do experience that immerses visitors in the country's vibrant culture and history. The bazaars are not only shopping destinations but also cultural landmarks showcasing local craftsmanship and gastronomy. The Tabriz Bazaar, the world's largest covered market, is a UNESCO-listed site with over five square kilometers of shops and stunning architecture. The Friday bazaar in South Tehran is a bustling marketplace with vendors selling everything from clothing to fresh produce. Each bazaar has a unique story to tell, from Qazvin's domed ceilings to Isfahan's bustling streets, offering visitors a glimpse into Iran's past while providing an authentic local experience.
Camping in the Golestan National Park
Travel to Iran to have an immersive experience in nature. Camping in the Golestan National Park offers a chance to experience the pristine beauty of Iran's natural world up close. Nestled in the northeastern corner of Iran, this sprawling park is known for its diverse landscapes, from dense forests to rugged mountains and cascading waterfalls. Camping on the park's grounds is an unforgettable opportunity to stargaze, listen to the sounds of nature, and escape from the chaos of city life.
Paragliding in Alborz
The Alborz Mountains offer some of the best paragliding opportunities in Iran. Imagine soaring like an eagle above the breathtaking peaks and valleys of Iran's rugged mountain ranges. The thrill of the wind blowing in your hair and the rush of adrenaline as you fly high above the ground is an experience that will stay with you forever. Try to do this at sunset, and witness the sky light up with hues of gold, crimson, and purple. When you are up there, don't forget to shout: Adventure Iran! No body hears you, but you feel it deep inside!
Cycling in Tehran 
For those who love to experience the great outdoor activities in Iran with a bit of exercise, cycling is no doubt top-tier! And cycling in Tehran offers a unique and exciting perspective on this vibrant and bustling city. Exploring Tehran through the eyes of a cyclist is an adventure in itself, as you pedal through the city's historic streets, vibrant neighborhoods, and parks. Joining a bike tour can give you opportunities to meet new people, discover hidden gems, and soak in local culture.
Surfing on the Caspian Sea
Get ready to hit the waves in the Caspian Sea! Believe it or not, this stunning waterbody is a top destination for surfing in Iran. With its rugged coastline, rocky headlands, and exposed beaches, the Caspian Sea offers perfect conditions for catching some waves. Surfing enthusiasts can enjoy the thrill of the ride while soaking up the sun and breathing in the fresh sea air.
Horseback Riding in Isfahan
There's something majestic and timeless about horseback riding, and exploring the old part of Isfahan on horseback is an unforgettable experience for outdoor enthusiasts. This historical city is surrounded by a lush and verdant landscape of pastures, fields, and orchards. Riding through this stunning scenery on the back of a horse while listening to the sound of hooves clopping on the ground is an experience that awakens the soul and leaves you with memories that will last a lifetime. Horseback riding in Isfahan is possible both in the city center and in the countryside.
Last Words
In conclusion, Iran is a country of natural wonders and outdoor adventures that offer a soul-nourishing experience for travelers. From trekking through the Zagros Mountains and the Alborz Mountains to mount Damavand ski tours and camping in the Golestan National Park, Iran has something for every adventure enthusiast. Visiting the bazaars is another must-do activity that is both culturally and historically enlightening. 
Other experiences like paragliding in Alborz, surfing on the Caspian Sea, horseback riding in Isfahan, and exploring Tehran on a bike add to the excitement of the trip. By immersing yourself in Iran's natural beauty and experiencing its local traditions, you can connect with your true self and the magnificent universe that surrounds us all. Outdoor activities in Iran and adventure waits in Iran; all you have to do is grab your gear and go!