Top Iran Ski Resorts: A Guide to Skiing in Iran ( On-Piste / Off-Piste)
If you're seeking an off-the-beaten-path ski destination, then Iran, with its impressive mountains and some of the best Iran ski resorts, should definitely be on your radar. Iran is increasingly gaining popularity among skiers worldwide, offering high-quality ski facilities and reliable snowfall. Whether you favor on-piste or off-piste skiing, this diverse country has a plethora of options to cater to your preferences.
Ski Resorts in Iran: On-Piste and Off-Piste Options
Skiing in Iran has been gaining popularity in recent years, thanks to the country's impressive mountains and famous Iran ski resorts, known for their high-quality facilities and reliable snowfall. With a diverse range of options for both on-piste and off-piste skiing, Iran is a destination that caters to skiers of all abilities and preferences. On-piste skiing refers to skiing on groomed and maintained ski runs, while off-piste skiing refers to skiing on ungroomed and unmarked terrain. Both types of skiing can be found at many of the ski resorts in Iran, giving skiers the opportunity to experience the best of both worlds. Whether you prefer to stick to the groomed slopes or venture off into the backcountry, there's something for everyone in Iran.
For those looking for a truly unique skiing experience, the Mount Damavand Ski tour is one of the options in Iran to consider. A Mount Damavand skiing guide is available to guide and assist you through the best and safest routes up and down the mountain.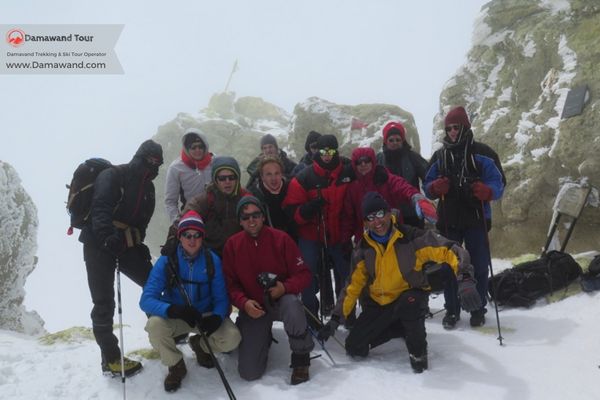 Top Iran Ski Resorts: Where to Ski in Iran
Iran boasts a wide range of ski resorts, each with its own unique features and amenities. From the older, more established resorts like Shemshak and Dizin to the smaller, more intimate resorts like Tochal, there's something for every type of skier in Iran.
Dizin: Iran's Premier Ski Destination
Nestled in the Alborz mountain range, approximately 70km north of Tehran, Dizin is the biggest ski resort in iran and most well-regarded ski resort. Founded during the 1960s, the resort has been officially recognized by the International Ski Federation for its ability to host official and international competitions. Skiers can hit the slopes at Dizin from December to May, thanks to its high altitude, and enjoy the ride up to one of the 40 highest ski resorts in the world, with its highest lift reaching 3,600m.
Dizin's ski resort offers a wide array of amenities, such as lodging options, including hotels, cottages, restaurants, villas, and private apartments, as well as year-round activities like tennis, mountain biking, and climbing, and ski instruction for all skill levels. The resort welcomes thousands of visitors annually.
Dizin's ski area boasts four gondolas, three chairlifts, and nine surface lifts, with a base elevation of 2,650m and a summit elevation of 3,600m. The resort offers fantastic powder snow, comparable to some of the best European and Rocky Mountain ski areas, and is easily accessible, just 70km north of Tehran. For those interested in skiing in Iran, Dizin Ski resort can be a great destination and there are plenty of Iran ski tour operators available to assist with planning and booking your trip.
Tochal: Skiing at the Doorstep of Tehran
Located just 10km from the northern suburbs of Tehran, Tochal ski resort offers a unique skiing experience for those looking for proximity to the city. The resort can be accessed via a four-mile cable car journey, one of the longest and most cost-effective in the world.
At an altitude of 3963m, Tochal is the fifth-highest ski resort globally, guaranteeing a ski season that extends from December to April and, in some cases, even June. Skiers can find four ski lifts at the summit of the cable car, two of which offer access to an elevation of 12,800 feet, providing an excellent vantage point to admire Mount Damavand.
For skiers looking for an easy and affordable way to reach the slopes while being in close proximity to Tehran, Tochal ski resort may be a great option. Its unique cable car access and elevated ski season are added bonuses to enjoying the skiing experience.
Shemshak Iran Ski Resort: A Steep Challenge for Skilled Skiers
Located in the city of Shemshak, 57 kilometers northeast of Tehran, Shemshak Ski Resort is one of Iran's largest ski areas, with operation dating back to 1958. Skiers can access the slopes with two chairlifts and three surface lifts, but it doesn't have lighting facilities for night skiing. The slopes range from an altitude of 2,550m to 3,050m above sea level, featuring two main slopes, each with a chairlift and multiple other lifts.
Shemshak Ski Resort is particularly known for being a haven for advanced skiers due to its steep, mogul-covered runs. However, due to some problems, the resort has been closed for two years; please kindly check its status with the official website before visiting. Typically, the ski season begins in early December and lasts till late March, depending on the weather. The resort is open daily from 8:00 am to 3:30 pm and with night skiing from 4:00 pm to 8:00 pm.
A Takeaway note
In conclusion, Iran offers a diverse and exciting skiing experience with over 20 ski resorts to choose from. The Dizin and Shemshak ski resorts, located near Tehran, are particularly popular and offer a wide range of activities and amenities. Skiing in Iran is also an affordable luxury, with rental equipment costing around 17 USD per day. Iran Ski tour operators are available to assist with planning and booking your trip. If you're looking for a winter holiday destination that offers both challenging slopes and beautiful scenery, the ski resorts in Iran are worth considering, also don't miss the chance of a lifetime experience skiing on Mount Damavand with a guide.